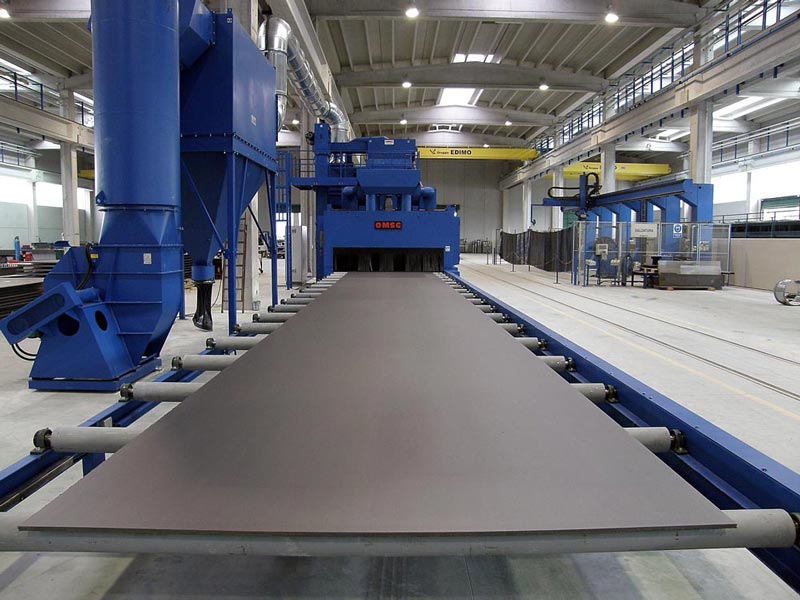 OMSG Group
LAUCO - Shot blast roller conveyor
Verdensledende innen overflatebehandling
LAUCO Roller conveyor
LAUCO - Shot blast machine with roller conveyor
Shot Blasting Machine with continuous tunnel chamber and fed by horizontal in feed and exit roller conveyor.
The components to be cleaned pass through the blast chamber on driven roller conveyors with designated lengths to suit specific work sizes.
Single pass cleaning to ISO 8501-1 and SIS SS 055900 standards is attainable.
On exit from the machine, brushing and blowing systems remove residue abrasive from treated work.
OMSG can offer different types of LAUCO machines, to suits customers' needs and manufacture.
1. Shot blast machines for steel plates and sections.
2. Shot blast machines for Internal and external cleaning of tubes and pipes.
3. Shot blast machines structural steel work and fabrications.
4. Shot blast machines in-line with automatic painting systems for plates and all types of sections
5. Shot blast machines for billet descaling
6. Shot blast machines for aluminium extrusions and profiles.
LAUCO machines for mild steel plate and profiles, having conveyor widths from 500mm up to 4500mm
Multiple blast wheels and varying motor Kw powers depending on the type and production capacity requested by customer.
The length on the external roller conveyor is in accordance with the customers' requirements.
The speed of the roller conveyor is variable and can be controlled through an Invertor.
Shot blast machines LAUCO for external pipe cleaning
Machine having same technical characteristics to LAUCO shot blasting of steel plates and profiles.
Only exceptions are the external roller conveyors and those in the blast chamber shaped with special profiles to locate across the conveyor.
Shot blasting machines LAUCO for composite structural steel works
As an alternative to the machines for steel plates and profiles, they present and entrance section up to 2000mm with multiple blast wheels angled to give maximum coverage.
Shot blasting machines LAUCO for simultaneous blasting of internal/external pipes.
Machines having a special roller conveyor with shaped profiles
Most important characteristic of the plant is the capacity of blasting, in a single production process, pipes both externally (through blast wheels) either internally (with compressed air lance) without the necessity of further manual blasting.
Shot blasting machines for LAUCO for blasting/painting of steel plates and commercial profiles
Here we have machines LAUCO included incomplete shot blasting and painting lines having high productive capacity.
Classic layout of such plants has been constituted from:
Loading cross transfer systems

Pre-heating oven

Shot blasting machine LAUCO

Painting booth

Drying oven

Unloading cross transfer system (rapid discharging)

Shot blasting machine for billets
Most important characteristic is the handling system composed by a grooved roller conveyor, suitable for billets movement having squared or round section.
These blasting machines have normally blast wheels with highest powers, to reach an higher production speed.

Shot blasting machine for aluminum extruded profiles
Roller conveyor machine equipped with special devices for the superficial treatment of extruded aluminum profiles